---
Deep South is een regio in het zuidoostelijke deel van de Verenigde Staten, bestaande uit staten zoals Alabama, Georgia, Louisiana, Mississippi en South Carolina, met een rijke geschiedenis en diverse landschappen.
De regio Deep South biedt een schat aan informatie over de steden en staten, de overweldigende natuurlijke schoonheid, mogelijkheden voor een roadtrip aan deze betoverende regio.

Kies hier uw favoriete rondreis/fly-drive/stedentrip
Kies hier uw favoriete hotel
Kies hier uw tour/excursie in Deep South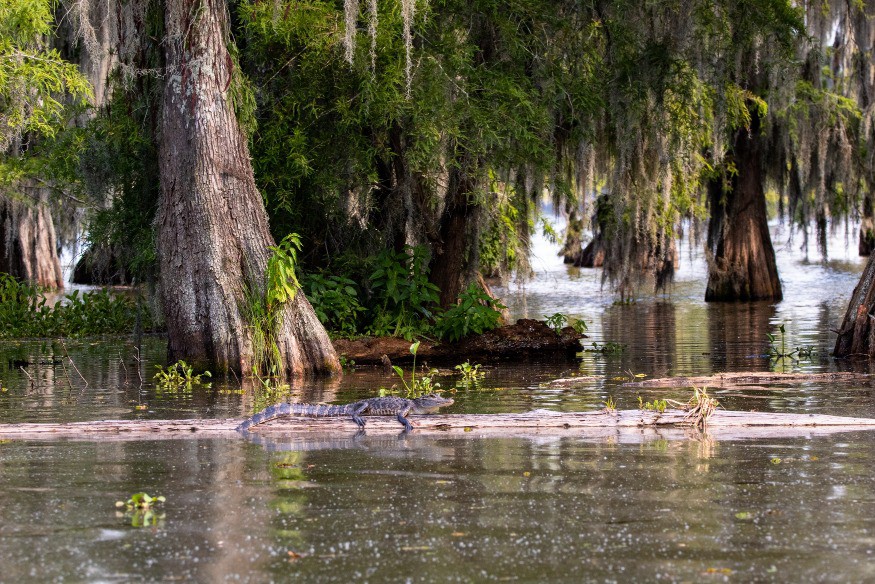 Na een korte busrit over de Mississippi-rivier, maak je een fascinerende boottocht naar de Louisiana Swamps & Bayous om een ​​aantal zuidelijke alligators van dichtbij te zien... in Gator Country!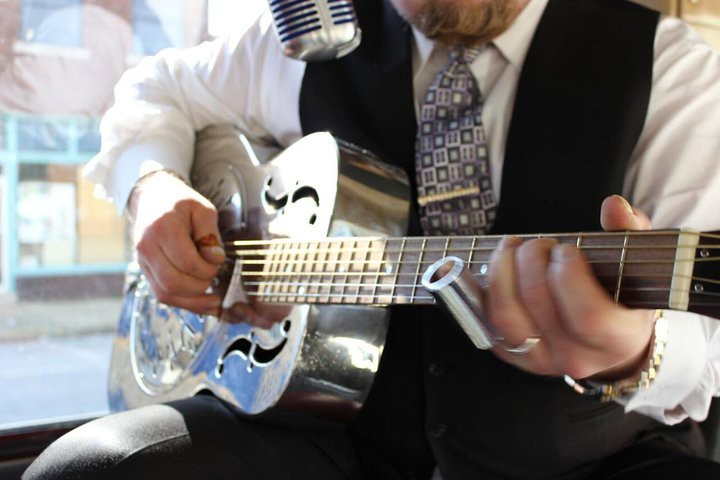 Of het nu de 90 minuten durende Mojo Tour is of de 3 uur durende Big Mojo Tour met Sun Studio, je kunt niet fout gaan op deze vrolijke ritten door muzikaal Memphis, compleet met livemuziek.
---
Alles over Deep South
In Deep South vind je een overvloed aan historische en culturele schatten. Van betoverende plantagehuizen en indrukwekkende burgerrechtenmonumenten tot levendige muziekscènes en de heerlijke zuidelijke keuken, er valt altijd iets nieuws te ontdekken en te ervaren. Daarnaast staat Deep South bekend om zijn diverse en adembenemende landschappen. Van uitgestrekte moerassen en weelderige bossen tot prachtige kustlijnen en schilderachtige berggebieden, natuurliefhebbers zullen versteld staan van de schoonheid en diversiteit die deze regio te bieden heeft. Of je nu op zoek bent naar avontuurlijke outdoor-activiteiten of gewoon wilt ontspannen in de natuur, Deep South heeft voor elk wat wils.
Steden en staten in Deep South
De steden en staten in Deep South zijn doordrenkt van geschiedenis, cultuur en zuidelijke gastvrijheid. Van bruisende metropolen tot swingende steden, deze regio biedt een diverse en levendige stedelijke ervaring.
Wat zijn de zuidelijke staten?
Deep South omvat de staten Alabama, Louisiana, Mississippi, South Carolina en Tennessee. Elke staat heeft zijn eigen unieke charme en kenmerken, waardoor Deep South een gevarieerde bestemming is voor reizigers.
Alabama
Alabama is een staat in Deep South die bekend staat om zijn belangrijke rol in de burgerrechtenbeweging en de geboorteplaats van de Amerikaanse burgerrechtenbeweging. Alabama is de thuisbasis van historische plaatsen, adembenemende landschappen en bruisende steden zoals Birmingham en Montgomery.
Louisiana
Louisiana is een staat in Deep South die bekend staat om zijn levendige muziek, culinaire hoogstandjes en het unieke karakter van New Orleans. Louisiana wordt gekenmerkt door zijn Franse en Creoolse invloeden, en biedt een mix van culturele, historische en natuurlijke attracties.
Mississippi
Mississippi is een staat in Deep South die wordt gekenmerkt door zijn rijke muzikale erfgoed, historische plaatsen en prachtige kustlijn. Steden zoals Jackson en Biloxi bieden een combinatie van cultuur, geschiedenis en entertainment voor bezoekers.
South Carolina
South Carolina is een staat in Deep South die bekend staat om zijn prachtige stranden, historische charme en zuidelijke gastvrijheid. Steden zoals Charleston en Myrtle Beach trekken bezoekers aan met hun rijke geschiedenis, architectuur en natuurlijke schoonheid.
Tennessee
Tennessee is een staat in Deep South die bekend staat om zijn muzikale erfenis en levendige steden zoals Nashville en Memphis. Met legendarische muzieklocaties, prachtige landschappen en een bruisende sfeer, is Tennessee een populaire bestemming voor liefhebbers van muziek en cultuur.

---
Welke steden liggen er in Deep South?
Deep South omvat de steden zoals New Orleans in Louisiana, Atlanta in Georgia, Nashville en Memphis in Tennessee, Birmingham in Alabama, Charleston in South Carolina en nog veel meer. Elke stad heeft zijn eigen unieke karakter, attracties en cultuur, waardoor reizigers een rijke en gevarieerde stedelijke ervaring kunnen beleven.
New Orleans, Louisiana
New Orleans is een bruisende stad in Louisiana die bekend staat om zijn levendige muziekscene, rijke culturele erfgoed en iconische festivals zoals Mardi Gras. De stad biedt een mix van Franse, Creoolse en Amerikaanse invloeden, en staat bekend om zijn heerlijke keuken en levendige straatleven. Bourbon Street, is vooral beroemd om zijn gezellige bars, nachtclubs en restaurants, waar bezoekers kunnen genieten van live muziek, lokale gerechten en een levendige en feestelijke sfeer.
Nashville, Tennessee
Nashville, gelegen in Tennessee, is wereldwijd bekend als de hoofdstad van de countrymuziek. De stad trekt muziekliefhebbers aan met zijn vele live muziekoptredens, iconische muzieklocaties zoals de Grand Ole Opry en het Country Music Hall of Fame.
Memphis, Tennessee
Memphis, ook gelegen in Tennessee, staat bekend om zijn rol in de Amerikaanse muziekgeschiedenis. Memphis is de thuisbasis van bekende artiesten zoals Elvis Presley en het beroemde Sun Studio. Daarnaast is de stad ook bekend om de beroemde Beale Street, een bruisende straat vol live muziek en entertainment.
Birmingham, Alabama
Birmingham in Alabama is een stad met een rijke geschiedenis in de burgerrechtenbeweging. Het Birmingham Civil Rights Institute en de 16th Street Baptist Church zijn belangrijke historische locaties die bezoekers herinneren aan de strijd voor gelijkheid en burgerrechten.

---
Ontdek de natuur in Deep South
De natuur in Deep South is divers en adembenemend, met nationale parken zoals Everglades National Park en de prachtige Gulf Islands National Seashore die bezoekers betoveren met hun unieke landschappen en biodiversiteit.
Nationale parken Deep South
De nationale parken in Deep South zijn indrukwekkende natuurlijke schatten die bezoekers betoveren. Everglades National Park in Florida biedt een uniek moerasgebied met een overvloed aan flora en fauna, terwijl het White Mountain National Forest in New Hampshire en Maine een adembenemend landschap van bergen, bossen en watervallen onthult.
Everglades National Park
Everglades National Park is een uitgestrekt natuurgebied in het zuiden van Florida, dat bekend staat om zijn unieke moeraslandschap en diverse ecosystemen. Het park herbergt zeldzame en bedreigde diersoorten, zoals de Amerikaanse krokodil en de Florida panter, en biedt bezoekers de mogelijkheid om te genieten van boottochten, wandelpaden en het observeren van wilde dieren in hun natuurlijke habitat.
Congaree National Park
Het Congaree National Park is een geweldig nationaal park gelegen in South Carolina, met prachtige bossen en majestueuze bomen. Het park heeft leuke wandelpaden en je kunt er kanoën en allerlei mooie planten en dieren zien.
Gulf Islands National Seashore, Mississippi
De Gulf Islands National Seashore is een prachtig beschermde kuststrook gelegen in Mississippi. Het biedt bezoekers adembenemende stranden, helderblauw water en de mogelijkheid om te genieten van activiteiten zoals zwemmen, vissen en picknicken in een prachtige natuurlijke omgeving.
Great smoky mountains
De Great Smoky Mountains is een prachtig berggebied in de Verenigde Staten, met mooie bossen, geweldige uitzichten en veel verschillende planten en dieren. Het is echt adembenemend.
The Deep South rondreis
Een rondreis door Deep South is een avontuurlijke reis vol ontdekkingen en culturele ervaringen. Je kunt historische steden verkennen, genieten van de zuidelijke keuken, de prachtige natuurlijke landschappen bewonderen en kennismaken met de unieke zuidelijke gastvrijheid die deze regio te bieden heeft.
Wat moet je weten over Deep South?
Deep South heeft een rijke geschiedenis vol met invloeden uit de Amerikaanse burgerrechtenbeweging en de zuidelijke cultuur. Het is ook een regio die bekend staat om zijn zuidelijke gastvrijheid en heerlijke zuidelijke keuken.
Geschiedenis van het diepe zuiden
De geschiedenis van Deep South is doordrenkt van belangrijke gebeurtenissen zoals de burgerrechtenbeweging en de Amerikaanse Burgeroorlog, die nog steeds hun stempel drukken op de cultuur en samenleving van vandaag.
Klimaat Deep South
Het klimaat van Deep South is over het algemeen warm en vochtig, met hete zomers en milde winters. Het kan variëren van de kustgebieden tot de binnenlandse gebieden, maar in het algemeen kun je genieten van aangename temperaturen en een overvloed aan zonneschijn gedurende het grootste deel van het jaar.